Going into Central Wellington these days, it is hard to avoid the Christmas trees, the shop window Santa's and carols blaring from loudspeakers onto the street.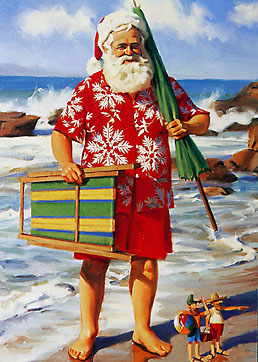 I don't think I'll ever get used to Christmases in the Southern Hemisphere, the Christmas lunches on the beach, the Santa's in shorts on

jandals

and listening to how people dream of 'a white Christmas' while sweating it out on the beach.
Luckily, the WWW is border-less and if you are still looking for a great Christmas gift for your beloved dad, son, brother, grampa, nephew, boyfriend... why not give him a gift that will last him a decade or two?
Beautiful merino berets from Spain and Argentina are available via easy mail order through

South Pacific Berets

and when ordered this week, they'll arrive in time for the silly season!
For the New Zealanders, Australians, Africans and South Americans among you - why not go for the fantastic cotton thread made

Tolosa Tupida 31

?
You like it wrapped in Christmas wrapping? - leave me a message when making payment!
The Southern Cross looks down
O little town of Bethlehem,
the Southern Cross looks down,
As once a star shone bright and clear
The hearts of Bethlehem are cold,
the streets are hushed with snow,
The doors are locked, there is no room,
dear Lord, where will you go?
Oh come sweet Jesus, come to us,
New Zealand's shores are warm,
And here are loving hearts enough
To shield you from the storm.
Come we will give you all we have,
Each bird and flower and tree
The breeze that stirs the mountain tops
The music of the sea.