I
remember -decades ago now- observing, open-mouthed, couriers on mountain bikes racing down steps somewhere in Seattle; a very spectacular sight. These days one has to be careful not to run over one maneuvering through dense city traffic, in any city around the globe, and I still love the sight and the principle of bicycle use over cars.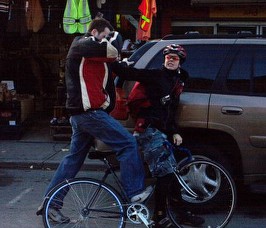 Not
every motorist would agree
and, sad to say, I wouldn't like to ride
my
bike among New Zealand motorists...
You might think it's a sight of these times, but actually, it was much, much

bigger

in the 1920's and 30's, with many competitions in France, Belgium and Germany.
The two winners Gilman (men) et Mme Athenase (women) both from la Presse
And this being the era before compulsory bicycle helmets, what better headgear was there for these 'porteurs de Journaux' than a beret (tight around the head, no peak that would lift it off your head in the wind and the most aerodynamic headgear available - still).
From Le Miroir des Sports (France), 22 Jan 1929