Evert Axel Taube
(1890 - 1976) was a Swedish author, artist, composer and singer. He is best known for his folk songs, and is widely regarded as one of Sweden's most respected musicians.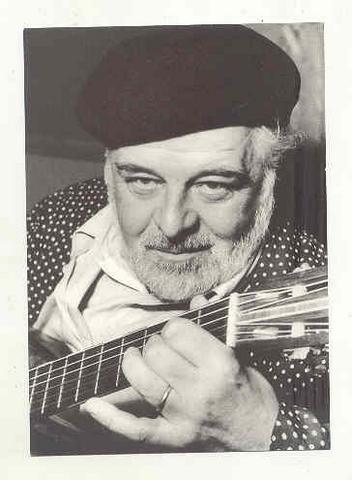 Evert

Taube

was born in Gothenburg, and brought up on the island of Vinga, Västergötland, where his father, Carl Gunnar Taube, a ship's captain, was the lighthouse keeper. His mother was Julia Sofia Jacobsdotter.
Having spent two years (1907-1909) sailing around the Red Sea, Ceylon and South Africa, Taube began his career as a singer-songwriter and collector of sailors' songs, and on Christmas Eve1908, on board the Norwegian ship
SS Bergen
headed for Spain, he performed "Turalleri, piken fra Hamburg".
Following a five-year stay (1910-1915) in Argentina, he developed an interest in Latin American music and introduced the Argentinian tango to Sweden in the twenties. Contrary to widespread perceptions, Taube did not work as a gaucho on the
Pampas
but as a foreman supervising workers who were digging canals designed to prevent flooding on the vast plains.
He is perhaps best known as a depictor of the idyllic, with motifs from the Swedish archipelagoes and from the
Mediterranean
, from a perspective every Swedish four-week holiday tourist could recognize. But he also wrote the most hitting anti-fascist anti-war poem in the Swedish language, "Målaren och Maria Pia", about the Italian war in Abyssinia, from the late 30s, as well as the anthem of the budding environmental movement in the 70s, "Änglamark" (originally written for the successful 1971 "
Hasseåtage
"-film
The Apple War
).
On his 60th birthday in 1950, Taube received the
Bellman
Award from the
Swedish Academy
and in 1960 he received an
honorary doctorate
from
Gothenburg University
. He was elected as a member of the
Royal Swedish Academy of Music
in 1970.
1985 statue of Evert Taube at
Järntorget
in
Stockholm
He died in Stockholm and is buried on the graveyard of Maria Magdalena Church on Södermalm.