Susan Travers (1909–2003) was an Englishwoman and the only woman to serve officially with the
French Foreign Legion
.
Travers was born in Southern England, the daughter of a Royal Navy admiral, but grew up in the south of France, where she was a semi-professional tennis player.
At the outbreak of the Second World War, Travers joined the French Red Cross as a nurse, but later became an ambulance driver with the
French Expeditionary Force
in Finland. With the German invasion of Denmark and Norway, she retreated to Finland. She then escaped by ship to Iceland and returned from there to England where she joined General De Gaulle's
Free French Forces
. By 1941, she was the chauffeur for a medical officer of the
13th Demi-Brigade
of the Foreign Legion, during the Syrian campaign in which
Vichy French
legionnaires fought Free French legionnaires. She was nicknamed "La Miss" by the legionnaires.
She then travelled to North Africa via
Dahomey
and the Congo. During that journey, she had a brief affair with Georgian nobleman and Foreign Legion officer
Dimitri Amilakhvari
. She was then assigned as driver to Colonel
Marie-Pierre Koenig
and also became his lover.
Travers went on to serve in Italy, France, and Germany, where she respectively drove an ambulance, lorry, and a self-propelled anti-tank gun. Later in the war, she was wounded when she drove over a mine.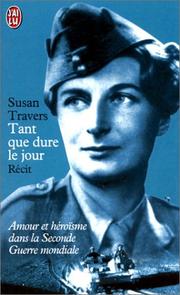 After the war she was formally enrolled in the Légion Étrangère, as an Adjutant-Chef.
Travers served in Vietnam, during the
First Indochina War
. She married Adjutant-Chef Nicolas Schlegelmilch, who had fought at Bir Hakeim with the 13th Demi-Brigade. They had two sons. In retirement, they lived on the outskirts of Paris.
Susan Travers died at the age of 94.