Somehow, I have less trouble writing about, for instance,
berets in the 3rd Reich
or
beret clad terrorists in the name of Islam
, than a post about this ex-evangelist,
stand-up comedian
Sam Kinison.
To me, this guy is the ultimate stereotype of what many non-Americans see as the ultimate American; big, dumb, loud, rude and ignorant -

and I haste myself to point out that that is far from my personal view of US citizens, of course!
But, he did make it into The Beret Blog, being a consistent beret wearer after the rate of his hair loss started competing with the rate of his drug intake.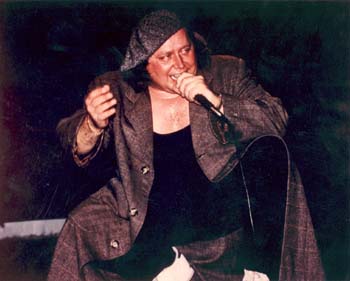 Evidently, he is still popular (Kinison

died

in April, 1992) in certain circles and possibly made a contribution to an increased beret awareness in the US.